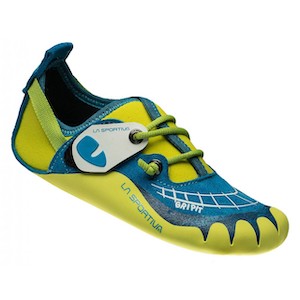 Gripit $64
Comfort on easy climbs is where this shoe shines. The Gripit performed well for young climbers but did have some shortcomings in the performance department. Our testers had trouble on slabs and cracks, as well as edging. The soft sole, while super comfy, just doesn't have the structure needed for most climbers to use on technical terrain... The Gripit is an ideal shoe for young, new climbers because the wide toe box and super thin flexible Frixion RS rubber out-sole are super forgiving to the growing foot. The wide hook and loop opening is also easy for little hands to get on and off. The flexibility and wide shape, however, will hinder performance for the older, heavier kids. These shoes are just as comfortable for wandering around the base of the crag while mom and dad get a pitch in as they are scrambling up the easy routes when it's the kids turn.
3 prices
$64 →82
Brands
Tags
---
Prices are in USD. If you are based in Europe, prices from European sellers may differ due to VAT.


Links may be affiliate links where we receive a commission at no extra cost to you.


Got beta? We would love to hear from you! spray@footbeta.com
---